Map It! is now available for early review and testing by members of the Dusty Reins DevLab.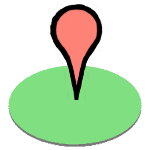 I have written up some preliminary information about Map It! and the new features it supports under the Mobile Apps link at the top of the page.  I am really excited about this app because it is the concept I had for my first mobile app and the one I really need to use for the work I do in photography and nature exploration.
I think I can have some fun with it too. Imagine getting a text from me sharing the location of a stash of Lone Star beer. If you have the Map It! app you will be able to navigate right over there with no problem by importing the GeoCoded text right into the app. Otherwise, you can use a Google Map link and you will be on your own to find your way there.