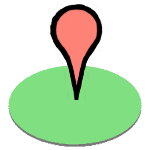 Map It! is a free application for Android powered mobile devices available for download in Google Play Store.
Although this is my second mobile app in Play Store, this app was my original concept of a mapping tool for my own needs.  As I began to use the original prototype in the field I quickly realized it needed more features to become a location sharing tool as well as a mapping and navigation tool.
My part time job includes incorporating different locations to travel to almost every time I travel my route every three days. These locations are remote where there are often no road signs to go by.  Getting good verbal directions to a new location is oftentimes difficult and confusing.  The directions given to me usually does not include the fact that I may have to take a different route than the one used by my co-workers.
Now my co-workers can use the Map It! SMS text share which then gets imported into my own list of locations.  I can then decide on the best route to get there which decreases the amount of travel time required if done the old way.
So it has already proven to increase productivity which is greatly appreciated by the company I am working part time for and I consider that a big win already!