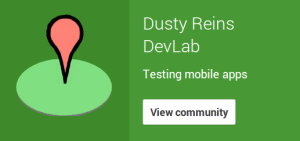 Would you like to have a part in the early design and testing of applications I have under development and revision?
I have a limited number of Android based mobile devices and new ones are coming out all the time. I need help to make sure my apps run without problems on many types of devices and the user screens adapt well to various screen sizes.
I have two more apps in mind for development and I would like to have some early feedback on user interface design and workflow issues when I create some mock-ups of the new applications.
If you are willing to volunteer some time and feedback, you are welcome to join in my Development Lab via email or on Google+ Communities.
By joining either Dusty Reins DevLab group – you will have access to download and try out early versions of my apps before they become available to the general public in Google Play Store. You will also be notified on your device automatically when a newer test version becomes available for download, testing and feedback.
The DevLab on Google Groups works via email or web browser interface, your choice. I will need to send you an invitation via email to join. Just use the Contact link above this page to send me a message about your willingness to help me and the email address where you will want the group messages to go. I will use that address to send the invitation to join the group.
For those of you who have Google+ accounts it is much easier! Just click the group link at the tip of the page to get started.