I presently have ideas for a minimum of six applications for Android based mobile devices.   The first one is just about ready to publish on Google Play Store.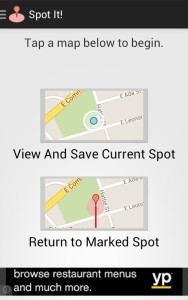 Here is a screen capture of the home screen for Spot It!  The application includes compliance with Android app style guidelines features.
I like user interfaces that are simple and intuitive to use.  Spot It! is the result of a similar but more complicated application which will use Google Maps to a great extent. like Spot It! does.
I will continue to update this page as the projects move forward and give a brief summary for each app as it becomes available for distribution.  I to make all the apps available for no charge so you can at least try them out and use them without spending any money.  Of course that means there will be display advertising included on some of the screens but I hope you find them useful and not too annoying.