Photography is a great tool for documenting moments in time.  I have witnessed a lot of climate and human cultural changes the past few decades. I thought it would be interesting to start up a planet-wide crowdsourcing project which records the history of life around us through photographic images on a day-by-day basis.

The project is just now getting started and at least for the time being, I am calling it Life Photo Today.  I have developed an app for Android powered mobile devices which is now in Alpha testing.  If you are interested in volunteering some time and effort in testing the app as it matures, please take a look at the information about the DevLab listed as a link at the top of this page.
There is a lot of work which still needs to be done but the app is currently functional in uploading and viewing photos.  I am including a few screenshots so you get an idea of what things look like now.  i will have to update this page many times before it becomes available for the general public in Google Play Store.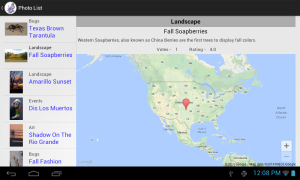 As you can see by these screenshots, I have optimised the display to look better on tablets where screen real estate is much larger than on most phone devices.