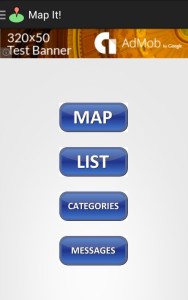 9/10/14 – Map It! debuts in the Google Play Store. Designed as a working tool for my own needs, I am excited to learn how it is useful for others as well. Feel free to leave comments below or on my Google+ and Facebook profiles.
Map It! is like Spot It! on steroids in that it gives you the ability to save many different geographical locations and organize them into categories that fit your needs.
Map It! also brings you the ability to share any of your saved locations with anyone via SMS text, email and posting to many popular social networks. You can send a Map It! GeoCode via text to anyone who has Map It! installed and they can import
the location directly into their app. And they can do the same for you! The message also contains a short URL to display the location in a browser using Google Maps.
Map It! introduces the ability to save a new location by placing a marker on a map if you need help navigating to a place you have never been to. The current location can be confirmed visually on the map by tapping on the FOLLOW button and tapping SAVE will record details for the current or a marked location.
Map It! uses a Navigation Map to guide you to a saved location. Instead of using turn-by-turn navigation, the map constantly updates your position. A red line indicates the direction of the saved location.
Every saved location also has a configurable imaginary boundary indicated by green shading around the red Place marker. Map It! will generate a notification on your device when the boundary is entered or exited if you are not engaged in following the updates provided on the map. The green circle becomes more transparent as you get closer.
A recorded locations (Places) can be assigned a category. Place listings can be sorted by category to help find a specific location quickly.
The Categories screen helps you to create and manage categories based on your personal needs. Those you see in the screen capture are some of the categories I use.
Category names can be added, changed and deleted as you see fit.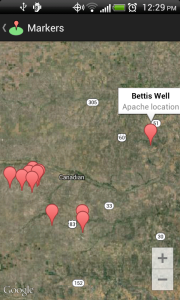 The Markers Map displays a marker for all Places within a specific category. Viewing markers in this way will sometimes show a pattern you may not have realized without a visual representation on a map.
I find it useful for mapping geological features and identifying hot spots for certain species of plants, animals and birds within a region under survey.
Mapping locations like this is also very useful in establishing a route between various locations. I have discovered many shortcuts from point A to point B by looking for county and ranch roads on the satellite view.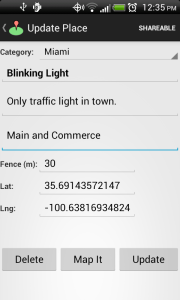 Sometimes I have a need share a location with another co-worker or participant in a biology, archaeology or geology survey. Or I may want to share a special location on Google+ or Facebook.
By default, all new recorded locations remain marked as private until you tap on the SHAREABLE button in the New Place or Update Place screens. It will take a moment of time to fetch a short browser link and then a Share Icon will replace the button.
Once Share has been activated, you may tap on the default share icon (SMS in the displayed screenshot) or tap the Share Icon to see a list of other methods including your email accounts and social networking accounts.
Only one location at a time is currently available in Map It! A share message contains a GeoCode (which can be imported via SMS message by Map It!) and a short web link. The short link will be displayed as a clickable hot link to view the location in most SMS, email and social network postings. That makes publishing the location almost universal for all recipients.
All the screenshots shown here are from my own testing device and they reveal one or more locations and descriptions in my area. As I mentioned up top, Map It! was primarily and will be improved based on my own personal needs. But I would like to find out how you are using it too!