Map It! has already become a very useful tool for me and this version is a reflection of many hours and days of testing in the field.  My usual routes are in rural areas with very spotty to no cell service so responding to poor communications has been quite challenging and time consuming.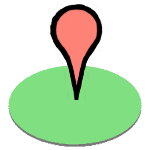 This version was an effort to improve reliability of the Navigation Map under difficult situations.  I replaced the new Google Activity Recognition Service with an algorithm of my own design improving the map's responsiveness to user movements and reliability.
I will have an opportunity to do more extensive testing tomorrow and if there is no show-stopping feedback from volunteer testers in the DevLab, then I will publish this version to Google Play for release to the general public.
I have several ideas based on my own needs for future enhancements including new features. But for now, more field testing and updating the info page for Map It! on this site will be my primary concern.