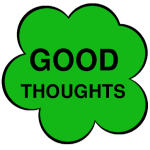 Good Thoughts – For Android™
is now available for Android powered phones and tablets.
The application gives users the ability to create and share original thoughts in several dozen categories and share them with other users. Good Thoughts is a free application supported by visual ads.
You can help battle negative thinking for yourself and others across the world by creating and sharing your good thoughts.
You will improve your positive thinking when you dwell on a good thought to share with others.  A positive exercise to start or end your day!  Others will be exposed to positive thinking when reading the good thoughts shared by others.
Let's help build a more positive human society by creating and sharing good thoughts! And please share this post with friends if you will so they can share their good thoughts too.